Welcome to Ad Orbit's in-person, class-based, training program.

Class is in session at Ad Orbit University ­
Ad Orbit University is our new educational program created to help you with the basic and advanced features of your new Ad Orbit system.
Join us on our Ann Arbor, Michigan campus for two days of hands-on training sessions.
2023 Ad Orbit University
Session Schedule
• Spring Course: March 7-8
• Summer Course: June 6-7
• Fall Course: October 24-25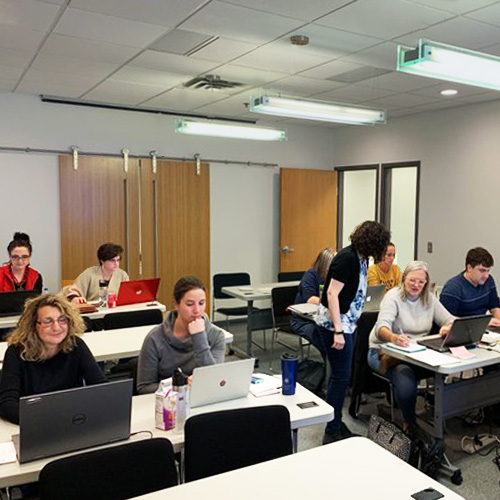 Accommodations
We're fortunate that Ad Orbit's HQ is located near an abundance of lodging options, conveniently located off of I-94. Here are a few potential lodging options for you, while you attend Ad Orbit University:
Transportation
Our office is about a 30-minute drive from Detroit Metro Airport (DTW). Because of this, we highly recommend renting a vehicle. Vehicle rentals are all available at the airport and can either be done in advance or the day of at each terminal's baggage claim. If this is not an option, however, here are some options:
Getting to and from DTW:
The Michigan Flyer-AirRide offers 12 daily round trips between Ann Arbor and Detroit Metro Airport. Tickets can be bought online (recommended) or at the time of boarding for an extra fee. If you decide to ride with them, the closest stop to our office is the Blake Transit Center in Downtown Ann Arbor. From there, you will have to take either an Uber/Lyft or a taxi to our office and neighboring hotels. Uber/Lyft and taxi fares from Downtown to our office are typically around $10-12. Tickets for the Michigan Flyer are $12 one-way and $22 round-trip.
Metro Cars are also available to and from the airport but can be quite expensive to get to and from Ann Arbor. If you would like to reserve one, you can do so here.
Getting to and from our office:
Uber and Lyft are both available in Ann Arbor for a low price. But, if you feel more comfortable using a taxi instead, here is what most of our guests prefer: Yellow Car – (734) 535-1805
Frequently Asked Questions
Which airport do we need to book our flights to?
Where is your office located?
Our office is located in Saline, MI. This is our address: 137 Keveling Drive, Saline MI 48176
What is Aysling?
Aysling is a digital media company offering fully integrated publishing and workflow solutions. Ad Orbit is a SaaS solution provided by Aysling that delivers powerful CRM and magazine publishing software.
How much does Ad Orbit University cost?
Ad Orbit University is currently $500 per person. Ask about our new client discount!
Do we need to bring anything?
Besides yourself, you must have a laptop to access your Ad Orbit site during class. In addition, please bring copies of your publications if available. We use them to decorate the walls of our office!
Will meals be provided?
We will be providing lunch and dinner on the second day of class (Wednesday). However, you will have to provide your own meals for the rest of your time with us. We do have coffee and snacks at our office during the entire duration of Ad Orbit University.
Will transportation be provided?
Unfortunately, we are not able to provide transportation, but we have listed some recommendations above.
What will the weather be like?
In Michigan, it is possible to experience all four seasons within the span of 24 hours. Be sure to pack accordingly and check the weather beforehand!
Have Questions About
Ad Orbit University?
Our team is here to help you plan your session. Contact us below!